This is our commitment to protect the ocean that we will be sharing with you, for future generations to enjoy.
As a goal to protect the ocean, please read below to understand a few of the initiatives you will actively be participating in simply through doing your training with us!
As a 100% aware partner we have committed to donating to Project AWARE on behalf of each student upon their course completion. This aligns with Project AWARE's mission to mobilize the world's divers into a global force to protect the ocean one dive at a time through education and awareness. Find more resources on some incredible ocean conservation initiatives at projectaware.org
We don't want to wait until you've completed your course to make an ocean-saving donation. As soon as you enrol into a course with Adventure Freedivers, a donation is made to the Balu Blue foundation on your behalf. Our own ethos resonate with Balu Blue's mission to support the necessary education required to assist both marine and land based wildlife conservation. This is a foundation that we could not hesitate to support. Find out more and stay up to date with the research based technology that they are creating at balubluefoundation.org
On our courses expect to wear a TrshBg! These dive-specific up-cycled bags allow us a streamlined option to collect any trash we might find floating around and dispose of it correctly. TrsgBh is a trash collection bag, handmade in Bali, most of the bag is made up from old banners and used scooter tyres, the rest is recycled from materials found on the beach. You can purchase your own at trshbg.com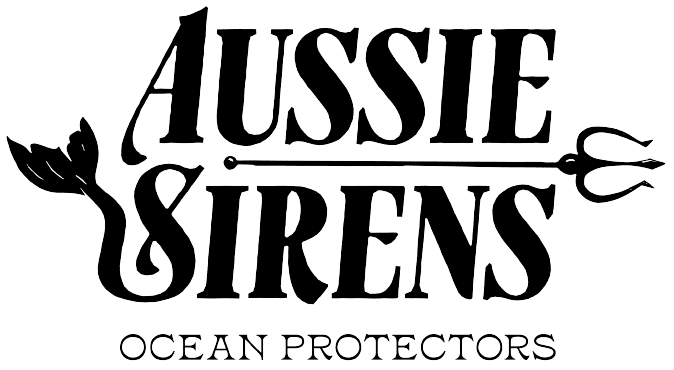 We stand with the Sirens.
We are passionate about protecting the ocean. It runs through the heart of everything we do from our education and training. We work directly with the Aussie Sirens on the direct action like marine debris surveys and clean-ups. The Aussie Sirens are a community of ocean protectors. Made up of freedivers, mermaids, surfers, snorkelers, swimmers and generally anyone who even thinks the ocean is a nice place, who gather for regular meets to share connection to the ocean, clean up beaches and spread education across their communities.
Along with supporting these amazing projects, we fundamentally believe in the importance of supporting ocean protection initiatives.
There are many other ways that we are supporting our local environment and oceans through sustainability and eco consciousness, if you wish to become more involved or would like more information please do not hesitate to get in touch!