We've spent years creating an unparalleled student experience for our freediving courses. As one of the oldest freediving schools in Australia, through our experience and knowledge we are able to provide
To enrol into the basic course you do not need any previous freediving experience.
Includes:
Knowledge development/Theory
Breath-work & mindfulness
1x Pool session

Introduction to Freediving - Lap 1
The aim of this course, as a subset of the beginners course, is to provide the foundations of freediving to develop your skills. Upon completion, you will have learnt basic Freediving principles and breath hold techniques as well as having completed two pool disciplines.
Freediving Fundamentals - Level 1 - Wave 1
The aim of this course is to open a new dimension of comfortability in the water, extend your breath hold time, learn how to safely descend beyond 10m as well as perform as a safety buddy. Upon graduating from this course, you will have learnt correct breathing techniques, relaxation and mental visualisation methods, understood the physiology of freediving, demonstrated efficient finning techniques and inwater rescue drills.
To enrol into the beginners course you do not need any previous freediving experience.
Includes:
Knowledge development/Theory
Breath-work & mindfulness
1x Pool session
2x Ocean/Open water sessions
To enrol into the advanced course you must already hold a Freediver certification
Includes:
Knowledge development/Theory session
Breath-work & stretching for freediving
1x extended pool session
2x Ocean/Open water sessions
Intermediate Freediving - Level 2 - Wave 2
The aim of this couse is to learn advanced training techniques, improve breathing and visualisation for relaxation and expand your theoretical and practical knowledge. Upon graduation from this course you will have learnt stretching and relaxation techniques, how to personalise your own training schedule, as well as perform additional and deeper buddy and rescue drills.
Assistant Instructor - Level 3 - Wave 3
A personalised, intensive training program that will take your freediving skills to a superior level. The course is also available for shorter periods in special situations. To enrol into the Masters course you must already hold an Advanced Freediver certification.
To enrol into the master course you must already hold a level 2 or advanced certification and have experience in freediving
Includes:
Knowledge development/Theory
Pool sessions
Ocean/Open water skills development sessions designed to achieve safe and comfortable depth progression.
Bonus:
Ocean/Open water training sessions tailored to the personal and progressional needs.
Deep EQ workshop
Buoy/knots/rigging
Assistant instructor coaching
Next Steps?
Schedule a call with our Instructor Trainer.
We will do all the leg work for you when it comes to mapping out what your journey will look like, based off your own goals and current level of knowledge.
This intimate and supportive professional development program will certify you to teach freediving, and open up a world of opportunity in the rapidly growing sport of freediving.
The Instructor course is for experienced Freediver's looking to join a rapidly growing sport in a professional capacity. Professional freediving instructors are able to grow and challenge themselves with greater physical challenges of freediving stamina as well as learning and understanding the system of education.
At Adventure Freedivers we don't believe one size fits all with learning. Similar to our other courses, we personalise the experience to meet the needs of those learning to give the most value to the student. Our instructor courses are no different.
We tailor the course to suit your needs, ensuring you leave feeling confident and have all the skill and knowledge required to safely take new Freediver's into the water.
Hit your goals faster, or work on one of your weaker disciplines with one-on-one coaching with an instructor, including video analysis for all disciplines across the pool as well as depth.
Continue through training and stay up to date with your freediving with the discipline which interests you the most. Instructors and assistant instructors are available for group or private training for depth or pool.
Want to hear about free training dive days and boat dives?
Maxine, a highly accomplished individual, has reached the pinnacle of Freediving instruction, holding the esteemed title of Instructor Trainer for PADI, as well as Molchanov's and Apnea Total. From her impressive achievements as both an athlete and safety diver in competitions to her expertise in coaching and tailored training, she brings unrivaled passion and knowledge.
Misunderstood and often deemed perilous by the media, freediving has profoundly influenced Maxine's life. It equiped her with invaluable stress management techniques and injury management skills, all within a low-impact setting. Through personal experience, she has unlocked the transformative potential of this remarkable sport.
Now, Maxine is dedicated to sharing the same sense of joy and fulfillment that freediving has brought to her life with countless students. Her expertise and enthusiasm have touched the lives of hundreds, as she introduces them to the wonders and benefits of freediving.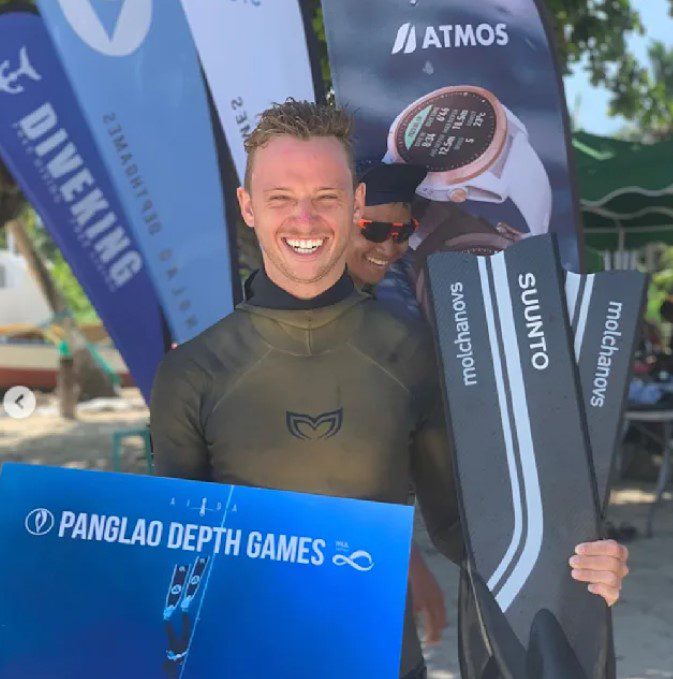 Mitch Ayres: Freediving Instructor
Specialty: Competition Preparation
Meet Mitch, an extraordinary individual who transformed from a beginner freediver to a national record holder in under three years. Mitch has been an outdoor education leader throughout his life, which shows, as he has a wealth of experience introducing sports to others and ensuring their safety in the wilderness. This passion led Mitch to discover freediving in 2020. His journey has been an impeccable illustration of the power of hard work, motivation, dedication, and discipline. While he initially progressed under the guidance of Max, Mitch has now become an inspiration to her and many others who aspire to cultivate greater discipline in their own lives. Use freediving as your key to unlock your own potential for greatness and success under the guidance of Mitch in Shellharbour, NSW.
Zac Kenway: Freediving Instructor
Specialty: Spearfishing and recreation
Meet Zac, a North Queensland local with a deep connection to the ocean. He has spent countless hours in the water, finding solace and joy in the depths. Spearfishing has always been a part of his family's tradition, but it was through his freediving courses that Zac truly discovered the essence of his love for the sport. Immersed in the water, he feels a sense of freedom and serenity that transcends everyday concerns. Freediving has not only enhanced his spearfishing skills, but it has also brought newfound balance and resilience to his life. Get introduced to the transformative power of freediving, spearfishing and unlock your personal growth and connection to the ocean with Zac in Townsville, Queensland.
Meet Rex, born and raised on the rugged coast of New Zealand, she grew up with an innate connection to the ocean. As a child, she would immerse herself in the waters, swimming deeper until her feet could no longer touch the seabed. During school and university breaks, Rex worked as a snorkeling instructor at Goat Island, New Zealand's first marine reserve, where she developed a close relationship with the marine life and became enamored with teaching others about the wonders of the ocean. While her initial motivation for freediving was to catch meals as a spearo, she quickly became engulfed with the sport itself and the challenging training regimen it required. If you're ready to overcome hurdles and connect with freediving, you can embark on a captivating journey with Rex in Sydney, NSW.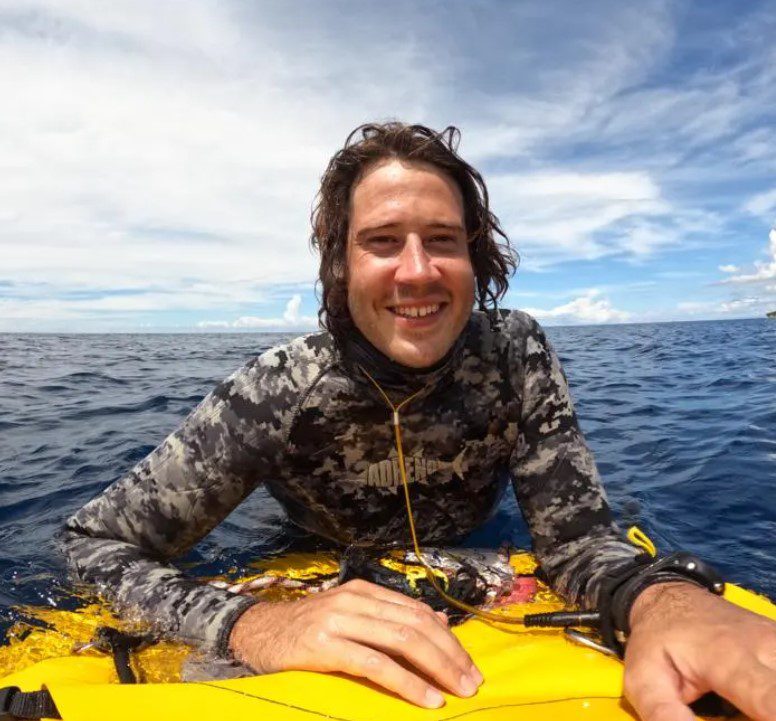 Meet Kyle, an avid instructor who discovered his profound love for the sport during his spearfishing adventures over the last few years. Despite growing up hours away from the ocean, he has developed a deep passion for the serenity and tranquility underwater. Driven by a relentless curiosity and unshakeable enthusiasm, Kyle is eager to share his knowledge and guide others towards unlocking their full potential in this extraordinary world of freediving. Embark on a thrilling journey with him, embracing challenges, serenity, and breathtaking beauty beneath the surface in Cairns, Far North Queensland. You can embark on a thrilling journey, embracing challenges, serenity, and breathtaking beauty beneath the surface with Kyle in Cairns, Far North Queensland.
We pride ourselves on experience, knowledge and continuous education.
Certifications available through the following agencies: